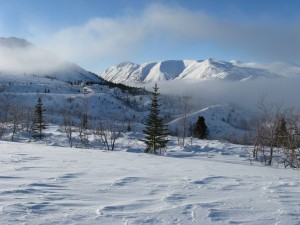 A five day adventure camp packed with amazing Yukon winter activities. Join us for a great mix of winter fun at our rustic wall tent camp!
Hook up a team of huskies and enjoy miles of beautiful trails, tie on a pair of snowshoes and hike with us through the white powder and learn how to fish for lake trout under the ice. Interested in northern wildlife? The winter gives you great opportunities to read animal signs and tracks.
At night after hearty meals cooked over the fire you can snuggle up in your sleeping bag in our heated tents or look out for the magical northern lights. Our Trapper Camp is a great way to enjoy the Yukon winter and to learn how to live comfortably in the wilderness in this amazing season.
Dates: Available upon request (Dec 1, 2016 – Mar 31, 2017)
Price: $1950