The Takhini River and it's upper run offers clear waters, spectacular views at the rugged mountains surrounding Kusawa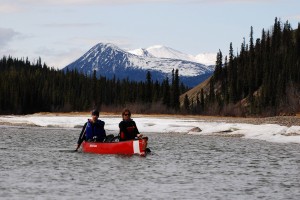 Lake and the treed hills of the Ibex Valley. This pearl amongst the rivers of the southern Yukon Territory lays within an hour drive from Whitehorse and is an ideal destination for any canoeing enthusiast looking for a short but fun overnight adventure.
On the afternoon of the first day you can enjoy a scenic drive to Kusawa Lake, a beautiful lake before spectacular mountain setting. Your guide will use the remaining hours of the day to introduce you to the basic techniques you will need to master the swift current of the Takhini River with your canoe. The night we will spend in our camp near the lake.
The following days we will enjoy travelling on the Takhini River, passing bald eagles hunting the clear stream for fish, beautiful islands and numerous eddies with great fishing opportunities for arctic grayling. Ready for an adrenaline rush? Depending on your canoeing skills and the water level, you may get a chance to run the short but impressive rapid the Takhini has to offer. A short portage trail offers a convenient alternative to running the rapid.
Our second night we will set up our tents at a wilderness camp where we show you how to cook a hearty meal over an open camp fire.
Day three offers an easy float on the river, before we will get picked up to return to Whitehorse.
Dates: This tour is available upon request.
Price: $580 (minimum 2 participants)